——J Chem Technol Biotechnol(2013)
Feng Qi1,Yuki Kitahara1.2,Zitian Wang1, Xuebing Zhao1,Wei Dua1,Dehua Liu1
(1.Institute of Applied Chemistry, Department of Chemical Engineering, Tsinghua University; 2.Department of Bioengineering, Tokyo Institute of Technology)
Abstract
Background:Rhodosporidium toruloides can transform carbohydrates from lignocellulosic hydrolyzate into long-chain fatty acids that contribute to biodiesel production. However R. toruloides cannot survive in lignocellulosic hydrolyzate due to the inhibitory effects of the byproducts co-produced by hydrolysis.
Results: To circumvent the limitation, atmospheric room temperature plasma (ARTP) mutagenesis was utilized to obtain R. toruloides mutant strains M11, M14, and M18 that had strong tolerance for the inhibitory compounds and could grow in lignocellulosic hydrolyzate without detoxification. It was demonstrated that acetic acid and vanillin (phenolic compounds) were major inhibitors that decrease d lipid productivity by 30%. Furthermore, acetic acid and vanillin changed the fatty acid composition of the lipids. Among the mutants, M18 exhibited the highest tolerance for all the inhibitory compounds and hadnear 50% lipid content.
Conclusions: This work provides novel potential strains for biodiesel production using lignocellulosic biomass and a useful.

Figure 1. The three mutants M11 (a, e), M14 (b, f) and M18 (c, g) grew rapidly on plates containing 100% (A) and 50% (B) hydrolyzate, while the wild type (d, h) used as the control failed to grow on either plate. Clones a1-2, b1-2, c1-2 and d1-2 were original strains of M11, M14, M18 and the wild type, respectively; e1-2, f1-2, g1-2 and h1-2 were the corresponding clones after cultivation in the YPD medium for five generations.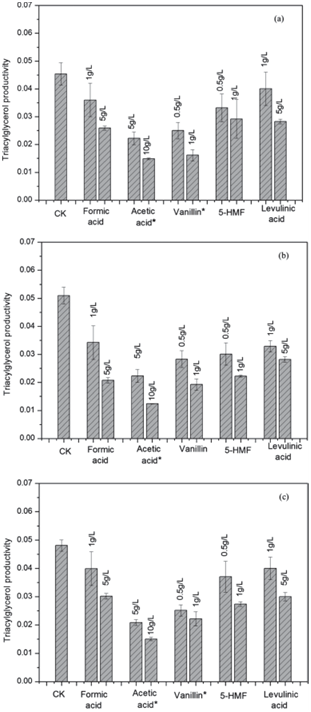 Figure 4. Triacylglycerol (TAG) productivity of the three R. toruloides mutants M11 (a), M14, (b), M18 (c) under the influence of the main inhibitors in hydrolyzate of lignocellulose. Data represented as means± standard deviation (SD), (*P < 0.05).